Precious metals are commodities which investors and governments have been pegging their worth to for a very long time. Today, metals such as gold, platinum, and silver are traded on almost every other exchange around the world. We can all agree that 2017 was a cryptocurrency year. Much as the precious metals have not been doing so badly in the same year, is 2018 is the year for these precious gems?
The best metals to invest in 2018
Gold
Gold has many fans. However, given its performance in 2017, there won't be sparks or flares in 2018. Since it passed the $1,700 mark in 2012, gold has never approached that mark again. On average, the bullion has climbed 10 percent this year. Despite reaching a high of $1,350 in September an ounce of this metal was selling at $1,258.28 as at 0915 GMT on Thursday.
Currently, the European Central Bank is tapering bond purchases while the Federal Reserve is tightening its monetary policy. This means that real interest rates will stay low and the dollar will weaken which will then mean that gold will rise marginally. According to Bart Melek, the bullion will average at a price of $1,313 in 2018. This is 4 percent more than the average mean of 2017. According to James Steel, an analyst at HSBC Securities (USA), the bullion will average $1,310 in 2018 because of a shift in investment demand which has gone towards gold. Several other market experts predict a rise in price for gold.
Platinum
Platinum is another precious metal which has appreciated in value over the years. Its current price is $897.87 per ounce. In the middle of 2017, the price of the metal had passed the $1,000 mark after which it dropped to $910 towards the end of September. The current price is the lowest it has been since July. The lagging in platinum prices can be attributed to negative headlines over toxic emissions from diesel engines.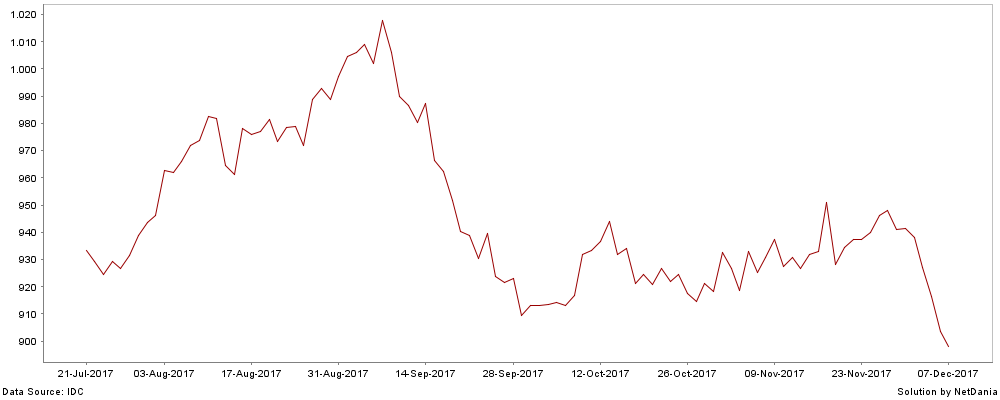 There are many uses for platinum metal among the building of catalytic converters of normal (non-electric) cars. A lot of improvements have been made in 2017 with regard to the making of electric cars. In November, Elon Musk, an electric car enthusiast and entrepreneur introduced a revolutionized Model-S car and new Tesla truck models which will further diminish platinum's marketability.
Palladium
Palladium is a precious metal which is used in a wide range of everyday gadgets. This metal is used in electronics, dentistry, catalysis, jewelry, and photography. On Thursday, this metal reached a high price of $1,004.18 and a low of $992.00. Since July 2017, Palladium has been rising at a steady rate. In July, it was selling at $850. Palladium's price surpassed that of platinum for the first time in September since 2001.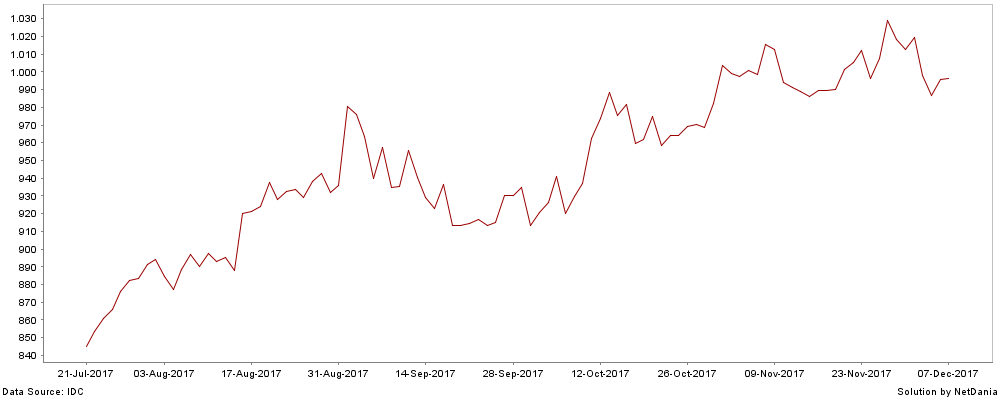 Tesla, which is affiliated with Elon Musk, made an announcement on 17th Nov that in 2018 and the years beyond it will produce 500,000 more cars every year. Palladium is inching closer to the gold bullion by the month. Indeed, 2018 is the year when this metal will shine.
Silver metal
Silver is one of the oldest metals used for transactional purposes in the world. However, the introduction and the discovery of other metals has somewhat made silver's star dim a bit. Silver is both a precious and an industrial metal. This makes it tricky for a trader to trade on it. If a trader understands silver's industrial demand and supply, then they can rest safe while trading in the metal.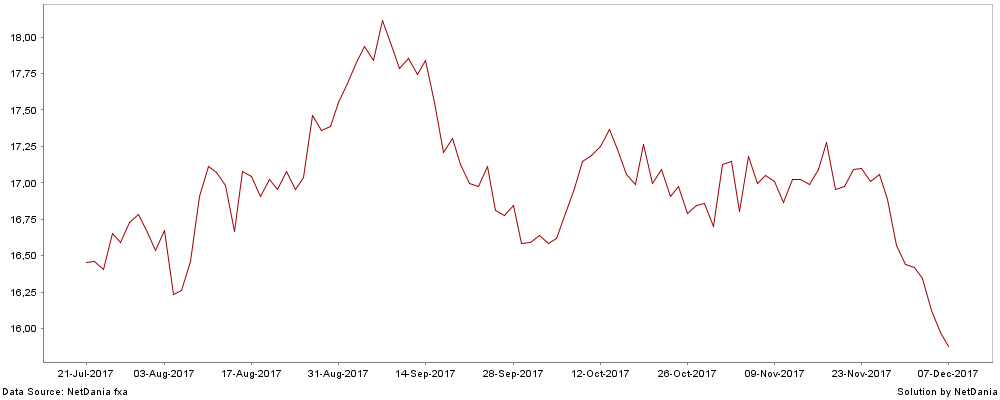 Silver has had a high of $15.99 and a low of $15.86. In the latter half of 2017, silver only managed to reach a high price of $18 in September after which it has been downhill all the way. Investing in silver in 2018 might prove tricky especially because there aren't positive news coming from the key players. Moreover, the other precious metals are stealing the glitter.
Source:
ForexNewsNow